Fitted Kitchen - Cologne
Shaker Style Kitchen - Cologne Ivory
Shaker Style Kitchen - Opulently designed to lend a regal appeal to your kitchen; the Shaker Style Cologne Ivory is a clever collaboration between the simple structures of true shaker style cabinetry and the grandeur of the Cologne Ivory. This premiu.... Read More
Shaker Style Kitchen - Cologne Ivory
Shaker Style Kitchen - Opulently designed to lend a regal appeal to your kitchen; the Shaker Style Cologne Ivory is a clever collaboration between the simple structures of true shaker style cabinetry and the grandeur of the Cologne Ivory. This premium vinyl covered kitchen door lends a lavish touch to this functional kitchen, highlighted by chunky metal handles and true wood dining counters & frames. This fitted kitchen is surely one where you would love to invite your guests into. We supply quality kitchens and kitchen components that are made here in Ireland. You can purchase your fitted kitchen cabinets below as flat pack ready to assemble kitchen units with all fittings and fixtures. Alternatively for the clever kitchen installer you can buy them as pre-assembled rigid units with all door and drawer frontals attached. We deliver our kitchens all over Ireland. Order today for a delivery within 15 working days.
Shaker Style 1 Piece Wrapped Kitchen Doors
Available in up to 9 Colours
Available in Flat pack for Immediate Assembly
Rigid Units with all fronts attached also availble.
Save up to 25% when you order your new kitchen here online.
At Kitchens4u.ie our aim is to supply our customers with affordable dream kitchens for their home. Quality products made here in Ireland and a 6 year guarantee on all kitchen doors are just a couple of the benefits of buying your kitchen from us today. Order Online Now.
Kitchen Design and Advice Service
Kitchen Design and Advice - If you require advice about the design and layout of yor new kitchen then why not use the chat box below to talk to one of our professional kitchen designers. We can offer you advice on all aspects of a new kitchen installation. From concept to completion. If you require a full kitchen makeover then why not make an appointment with us for a full consultation at our Kitchen Showrooms in Unit 45 Grange Avenue, Baldoyle Industrial Estate, Dublin 13 X924. You can also call us on (10) 8063445/8167518. We are open Monday to Friday from 9.00 a.m. to 5.00 p.m. and Saturday 9.00 until 2.00 p.m.

Build your dream Kitchen
Choose Kitchen Colour
1. Horns White
2. Porcelain
3. Horns Ivory
4. Cova Ivory
5. Magnolia
6. Plain Cream
7. Vanilla
8. Mussel
9. Dakkar
10 Fjord
11. Beech
12. Lissa Oak
13. Light Oak
14. Pippy Oak
15. Medium Walnut

16. Denim Blue
17. Light Grey
18. Kashmir Grey
19. Stone Grey
20. Dust Grey
21. Lava Grey
22. Graphite
N.B
. - Kitchen Door Colour Shades are for guidance only. Printed and digital colour images can appear different when viewed.
We advise ordering a sample door if you are unsure.
Hinges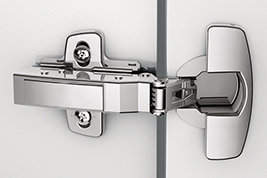 Hinges Included
Soft Closing Drawer
Soft Closing Included
Scroll Down to Order Your Kitchen Cabinets
Buy Complete Assembled Cabinets
Order Complete Cabinet Flat Packed
Sample
Base Kitchen Units
Base Units Drawer Line
Corner Base Units
Wall Cabinets (720mm High)
Extra Tall Wall Units (900mm High) Not Available Flat Pack
Corner Wall Units
Dresser Units (1220 mm High)
Bridging Unit 360 High
Bridging Unit 288 High
Tall Units - 1970mm High (Ex Legs)
Extra Tall Units 2150mm (Ex Legs) Not Available in Flat Pack
2 Drawer Units
3 Drawer Units
4 Drawer Units
5 Drawer Units
Panels and Blend Gables