Fitted Kitchen - Phoenix Acrylic
Fitted Kitchen - Phoenix Acrylic
It's white. It's glossy. It's contemporary. It's a fitted kitchen. And no, that does not say it all. Ask any kitchen supplier and he will agree with us when we called this fitted kitchen beyond compare. Neat, clean lines, integrated kitchen and cabinet door handles, a slee.... Read More
It's white. It's glossy. It's contemporary. It's a fitted kitchen. And no, that does not say it all. Ask any kitchen supplier and he will agree with us when we called this fitted kitchen beyond compare. Neat, clean lines, integrated kitchen and cabinet door handles, a sleek and simple island with a simple, elegant sink. There's all this and more when you choose a Phoenix Glossy White Contemporary kitchen.
Integrated kitchen appliances
Integrated kitchen door handles
Glossy finish
Darker hued kitchen worktops
Let's not forget the glossy look of the drawers and doors which add a certain sheen to the kitchen. A contrasting darker shade on the kitchen worktops and the island worktop makes for a nice bit of contrast to liven the whole look up. All together a beautiful fitted kitchen.
Build your dream Kitchen
Choose Kitchen Colour
1. Gloss White
2. Gloss Cream
3. Gloss Sand Beige
4. Gloss Cappuccino
5. Gloss Mussel
6. Gloss Ivory
7. Gloss Zebrano
8. Gloss Black
9. Gloss Light Grey
10 Gloss Stone Grey
11. Gloss Dust Grey
12. Brushed Steel
13. Metallic Anthracite
N.B
. - Kitchen Door Colour Shades are for guidance only. Printed and digital colour images can appear different when viewed.
We advise ordering a sample door if you are unsure.
Hinges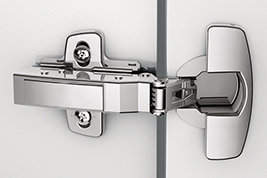 Hinges Included
Soft Closing Drawer
Soft Closing Included
Scroll Down to Order Your Kitchen Cabinets
Buy Complete Assembled Cabinets
Order Complete Cabinet Flat Packed
Sample
Base Kitchen Units
Base Units - Drawer Line
Corner Base Units
Wall Cabinets (720mm High)
Extra Tall Wall Units (900mm High) Not Available Flat Packs
Corner Wall Units
Dresser Units (1220mm High)
Bridging Unit 360 High
Bridging Unit 288 High
Tall Units - 1970mm High (Ex Legs)
Tall Units 2150mm (Ex Legs) Not Available Flat Packs
2 Drawer Units
3 Drawer Units
4 Drawer Units
5 Drawer Units
Panels and Blend Gables