Fitted Kitchen - Calcutta
Fitted Kitchen - Calcutta
Fitted Kitchen Calcutta - Maybe you want to add a new perspective to an old house. Well take a look at our Calcutta Style Kitchen door. Creaat a Farmhouse Style Fitted Kitchen. Traditional and yet very modern in its design and texture. The Calcutta Kitchen is a real eye cat.... Read More
Fitted Kitchen Calcutta - Maybe you want to add a new perspective to an old house. Well take a look at our Calcutta Style Kitchen door. Creaat a Farmhouse Style Fitted Kitchen. Traditional and yet very modern in its design and texture. The Calcutta Kitchen is a real eye catcher. Choose from Solid Wood or Granite Kitchen Worktops to create a perfectly balanced look and feel to your new fitted kitchen.
A Belfast Sink creates a great look with the counter tops that are fabricated around the kitchen sink in a range of materials including Quartz, Solid Wood and Natural Granite. Ornate Barley Twists create focal points that will attract peoples attention when they visit your home. And not forgetting the Georgian Framed Glass Cases that will create a great display area for your precious ornaments, photos and family gifts.
Fitted Kitchen - How to Order. . .
You can order your new fitted kitchen here online today. At Kitchens4u.ie we offer our customers a wide choice of kitchen cabinetry made from the finest materials and components that are second to none. You can order you kitchen in the following formats:
Pre-Assembled Kitchen Cabinets with doors, soft closing hinges,
legs and bases included. (Scroll Down to Buy Now.)
Flat Pack Kitchen Cabinets Complete with doors, soft closing
hinges and legs for assembly and install. (Scroll Down to Buy Now.)

Depending on what format you order we can deliver within 48 hours for flat pack cabinets or 10-15 working days for our pre-assembled complete kitchen cabinetry. You can order all of your kitchen cabinets below, just add what you need to your shopping cart. Delivery to all parts of Ireland.
Complete Kitchen Solutions
If it is a complete kitchen solutions package you are looking for then please contact us on (01) 8063445/8167518 to discuss yor project with one or our professional kitchen designers who will talk you through the whole process and get you started on the road to creating your dream fitted kitchen. Alternatively you can use the chat box below to ask us any questions that you might have. Why not visit our kitchen showrooms in Baldoyle Industrial Estate, Dublin D13 X924. Click on the Chat Box to Talk to an advisor now.
* Please note that Kitchen Cabinets Complete - Tall Cabinetry is delivered flat packed to eliminate any damages during transport.

Build your dream Kitchen
Choose Kitchen Colour
1. Horns White
2. Porcelain
3. Horns Ivory
4. Cova Ivory
5. Magnolia
6. Plain Cream
7. Vanilla
8. Mussel
9. Dakkar
10 Fjord
11. Beech
12. Lissa Oak
13. Light Oak
14. Pippy Oak
15. Medium Walnut

16. Denim Blue
17. Light Grey
18. Kashmir Grey
19. Stone Grey
20. Dust Grey
21. Lava Grey
22. Graphite
N.B
. - Kitchen Door Colour Shades are for guidance only. Printed and digital colour images can appear different when viewed.
We advise ordering a sample door if you are unsure.
Hinges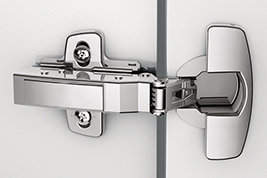 Hinges Included
Soft Closing Drawer
Soft Closing Included
Scroll Down to Order Your Kitchen Cabinets
Buy Complete Assembled Cabinets
Order Complete Cabinet Flat Packed
Sample
Base Kitchen Units
Base Units Drawer Line
Corner Base Units
Wall Cabinets (720mm High)
Extra Tall Wall Units (900mm High) Not Available Flat Pack
Corner Wall Units
Dresser Units (1220 mm High)
Bridging Unit 360 High
Bridging Unit 288 High
Tall Units - 1970mm High (Ex Legs)
Extra Tall Units 2150mm (Ex Legs) Not Available in Flat Pack
2 Drawer Units
3 Drawer Units
4 Drawer Units
5 Drawer Units
Panels and Blend Gables