Kitchens - Stockholm Kitchen Cabinets
Kitchens - Stockholm Kitchen Cabinets
Kitchen Cabinets - Stockholm Kitchen Cabinets Complete - Quality Cabinet Maker Kitchens4U in Dublin are a premier provider of quality kitchen cabinets, offering both flat pack and pre-assembled options. Our cabinets are made from the finest mater....

Read More
Kitchen Cabinets - Stockholm Kitchen Cabinets Complete - Quality Cabinet Maker Kitchens4U in Dublin are a premier provider of quality kitchen cabinets, offering both flat pack and pre-assembled options. Our cabinets are made from the finest materials and are designed to last for years to come. We specialize in customizing cabinets to fit your exact needs and provide a wide range of styles and finishes.
Our experienced team of kitchen designers and cabinet makers will work with you to create the perfect kitchen cabinets for your home. We are dedicated to providing the highest level of customer service and satisfaction, ensuring that your kitchen cabinets are of the highest quality.
These Kitchen Cabinets supplied and delivered by our company are of the highest quality 18mm Melamine Faced Chipboard (MFC) and are designed to fit your exact kitchen specifications. We offer a selection of styles, colors, and finishes to choose from, including these Stockholm Complete Kitchen Cabinets. We supply cabinets as pre-assembled or Flat Pack Complete Cabinets and ready to install, so you can have your dream kitchen in no time. We also provide professional installation services to ensure that your cabinets are installed correctly and securely. With our cabinets, you can rest assured that your kitchen will look beautiful and last for years to come.
Video – How to Assemble our Flat Pack Kitchen Units
Kitchen Design and Supply
Kitchens4u - Kitchen Design Supply and Fit is your one-stop shop for all your kitchen needs. We provide a comprehensive range of services, from designing and planning your dream kitchen to supplying and fitting the highest quality products. Our experienced team of kitchen designers and installers are on hand to help you create the perfect kitchen for your home. We offer an extensive selection of kitchen styles, from traditional to contemporary, and our experienced staff can help you choose the perfect combination of materials and finishes to suit your individual needs. With our professional installation service, you can rest assured that your new kitchen will be installed to the highest standards. Whether you're looking for a complete kitchen makeover or a simple update, Kitchens4u Baldoyle Industrial Estate, Baldoyle, Dublin D13 X924 is the perfect fit for you. Call us today for a consultation at our Kitchen Showroom. (01) 5414410 or 5414411.
Build your dream Kitchen
Choose Kitchen Colour
1. Horns White
2. Porcelain
3. Horns Ivory
4. Cova Ivory
5. Magnolia
6. Plain Cream
7. Vanilla
8. Mussel
9. Dakkar
10 Fjord
11. Beech
12. Lissa Oak
13. Light Oak
14. Pippy Oak
15. Medium Walnut

16. Denim Blue
17. Light Grey
18. Kashmir Grey
19. Stone Grey
20. Dust Grey
21. Lava Grey
22. Graphite
N.B
. - Kitchen Door Colour Shades are for guidance only. Printed and digital colour images can appear different when viewed.
We advise ordering a sample door if you are unsure.
Hinges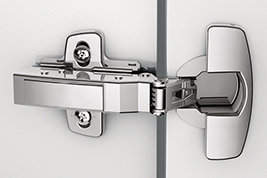 Hinges Included
Soft Closing Drawer
Soft Closing Included
Scroll Down to Order Your Kitchen Cabinets
Buy Complete Assembled Cabinets
Order Complete Cabinet Flat Packed
Sample
Base Kitchen Units
Drawer Line Base Units
Wall Cabinets
Corner Wall Units
Bridging Unit 360 High
Bridging Unit 288 High
Extra Tall Wall Units - 900mm High
Extra Corner Wall Units 900 High
Tall Units - 1970mm High (Ex Legs)
Tall Units 2150mm (Ex Legs)
2 Drawer Units
3 Drawer Units
4 Drawer Units
5 Drawer Units
Corner Units
Panels and Blend Gables
Accessories
Sample
Base Kitchen Units