Fitted Kitchen Ruskin
In-Frame Style Kitchen The Ruskin
Originally traditional, in-frame style kitchens have made a strong comeback and the Ruskin is inspired by this unmistakably elegant style of cabinetry. Built with attractive sand colored painted panels, it is punctuated with sleek golden knobs & handl....

Read More
In-Frame Style Kitchen The Ruskin
Originally traditional, in-frame style kitchens have made a strong comeback and the Ruskin is inspired by this unmistakably elegant style of cabinetry. Built with attractive sand colored painted panels, it is punctuated with sleek golden knobs & handles. With multiple closed and open storage options, it is perfect for your growing family needs. The island style sink counter adds a touch of finesse while the portico style hob frames contribute to a sense of grandeur.
Elegant Sand Coloured Units
Strong Hinges to Support Cabinet Doors
White Gloss Kitchen Countertops
Choice of Whirlpool or Nordmende Kitchen Appliances
Dedicated Slot for Hob & Ovens
The in-frame style Ruskin is a perfect ode to your childhood kitchen. This painted kitchen makes for a great impression on your guests and accommodates each & every of your family's needs. If this is a kitchen you would love walking into everyday, call us today!
Build your dream Kitchen
Choose Kitchen Colour
1. Horns White
2. Porcelain
3. Horns Ivory
4. Cova Ivory
5. Magnolia
6. Plain Cream
7. Vanilla
8. Mussel
9. Dakkar
10 Fjord
11. Beech
12. Lissa Oak
13. Light Oak
14. Pippy Oak
15. Medium Walnut

16. Denim Blue
17. Light Grey
18. Kashmir Grey
19. Stone Grey
20. Dust Grey
21. Lava Grey
22. Graphite
N.B
. - Kitchen Door Colour Shades are for guidance only. Printed and digital colour images can appear different when viewed.
We advise ordering a sample door if you are unsure.
Hinges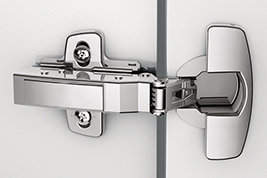 Hinges Included
Soft Closing Drawer
Soft Closing Included
Scroll Down to Order Your Kitchen Cabinets
Buy Complete Assembled Cabinets
Order Complete Cabinet Flat Packed
Sample
Base Kitchen Units
Drawer Line Base Units
Wall Cabinets
Corner Wall Units
Bridging Unit 360 High
Bridging Unit 288 High
Extra Tall Wall Units - 900mm High
Extra Corner Wall Units 900 High
Tall Units - 1970mm High (Ex Legs)
Tall Units 2150mm (Ex Legs)
2 Drawer Units
3 Drawer Units
4 Drawer Units
5 Drawer Units
Corner Units
Panels and Blend Gables
Accessories
Sample
Base Kitchen Units